---
Why check samples? What do we mean by this? To check your measurement system means to have a certain level of quality assurance in your business. Using check samples to monitor your quality control increases the consistency of your examination and the peace of mind you (and your customer) will have when the product reaches its final destination.
If you are new to the industry you may be asking, what is a check sample or check standard?
"Check standard methodology is a tool for collecting data on the measurement process to expose errors that afflict the process over time. Time-dependent sources of error are evaluated and quantified from the database of check standard measurements. It is a device for controlling the bias and long-term variability of the process once a baseline for these quantities has been established from historical data on the check standard." (NIST)

The ASTM Definition can be found here.
For more information regarding check samples:
---
Check samples, or standards, are the cornerstone of a consistent quality control program.
In the fast-traveling communication world that we live in, you cannot afford to leave a customer dissatisfied. Check samples will give you a clear indicator of where the line between acceptable and unacceptable is. They give you and your customer the reassurance needed to feel confident in your product and secure in your business.
Don't save a dollar today, only to pay thousands of dollars in the future.
Let's do this right the first time.
5 Reasons Why You Should Be Using Check Samples in Your Quality Control
1. Change is inevitable
Process requirements, materials, and methods are always shifting and changing. The only way that we can best stay on top of them is to be able to constantly monitor, using check samples, that your analytical measurement system is providing accurate results.
2. To avoid costly mistakes (and increase profits!)
With accurate sample preparation and the proper check standard, you are better able to avoid even the slightest mistakes that could prove to be large monetary costs in the future. Therefore, by using check standards you not only help your company to avoid costly mistakes, but also to increase customer and employee confidence in your product. This, in turn, increases your profits.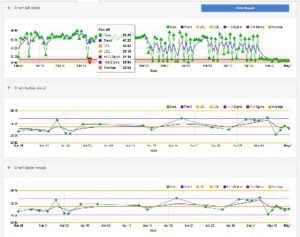 3. Customer Loyalty
With the added confidence that you will have with your materials, your customer will also receive this satisfaction and contentment. Knowing that you consistently maintain a high-integrity quality control system with check standards, you will build a strong trust with your customers that will deter them from looking elsewhere for your product or service.
4. Get the most out of your equipment investment
Essentially, your equipment is only as good as the result it gives you. By using check standards to routinely check your equipment, you are ensuring that you get the truest results from your equipment and therefore, more value out of it.
5. Comply with test method requirements
Last, but not least, we all need check samples to comply with current and future test method requirements, such as: D2622, D5453, and D6443.

Still not convinced? Because it's about to get real.

Here are some relevant articles regarding the use (or lack thereof) of the need for consistent quality assurance:
Example of what not to do: BP and the Deepwater Horizon Distaster of 2010

"One of the key findings highlighted in the Baker Report was that the company had cut back on maintenance and safety measures at the plant in order to curtail costs, and that responsibility for the explosion ultimately rested with company senior executives" (5)

"Despite the hazards of the Macondo well site, the known maintenance issues on the rig, and the setbacks that had caused the project to be over budget, BP felt confident that it had found oil." (8)

"In concert with the decision to do a partial circulation, BP managers chose not to run a test called a "cement bond log" to check the integrity of

As we can see, cutting initial cost, ignoring quality control measures, and exchanging quality for speed is not the best formula for company longevity.

the cement job after it was pumped into the well, despite Gagliano's warnings of potential channeling."

Example of what to do: BSI Case Study Shed Grounds


"Our successful certification to ISO 9001 sends out a clear message that Shed is committed to providing a top class service. All works are subject to this rigorous quality management system, which provides clients with confidence that we have the technical competence and the resources to undertake the tasks required."

"Our certification means clients can rest assured that we have been thoroughly assessed and deemed to be a quality operator in our sector. It ensures that we are striving to meet and exceed clients' requirements and demonstrates our

commitment to continuous improvement of our services."

There is a clear benefit in maintaining a rigorous quality management system, both to your company and to your customers.

Example of High Quality Standard Report:

ExxonMobile Preferred Status
---

Using check samples is not only something that you should do, but something that your company needs to do.
The use of check samples in your quality assurance process increases the very quality and integrity of your business to increase your profits, increase your customer life time value, and comply with test method requirements.
Cheers to your quality future!
---