Have you ever received a call from a process engineer querying your analysis values? Had that sinking feeling every laboratory manager and analyst gets when the numbers don't meet the expected values? It's always a scramble to verify the results to determine whether this is a true value or an error. The use of check standards should minimize errors and ensure high levels of confidence in results but there is always the chance that you have an anomaly.
At the heart of the verification process are the calibration standards you used to calibrate your analytical instrument and the check standards you used to validate the measurements.
Calibration standards are especially important to your underlying assumptions about your analysis.
Your analytical data produced is only as good as your calibration standards' accuracy for the element and in the matrix of your analysis. This means that extra care and consideration in the handling of your calibration standards will increase your confidence in your analysis values.
At ASI Standards we're fervent about delivering the most reliable calibration standards for your specific analytical needs. Years of experience with materials that go into making these calibration standards provide unique insights and data in the processes of calibration standard production. This gives us confidence in the time periods we assess for a standards validity and leads to our assessment of the expiration date you will find imprinted on our calibration standards bottle or ampoule labels and on the Certificate of Analysis.
WHY DO CALIBRATION STANDARDS GO BAD?
There are three main causes of changes to the certified concentration data in calibration standards
Evaporation of volatile matrix materials causing a concentration increase in the element of interest
Cross contamination of standards caused by returning unused calibration material to the wrong bottle
Chemical changes due to the breakdown of stabilizers, which keep metals in suspension, with time allowing the elements of interest to drop out of solution and form precipitates. (Brown bottles are used to limit the influence of UV light on the solutions, since UV light acts as a catalyst to breakdown stabilizers)
HOW TO PREVENT STANDARDS FROM BEING ALTERED
Expiration dates are based on data ASI has generated over many years of successful standard production and is dependent on
The correct storage of calibration standards between use

Store in a refrigerator or at constant room temperature, 72 F (25 C) in a well-regulated temperature-controlled environment
Store in light tight storage to reduce or eliminate UV light interaction with your calibration standards

The correct use of calibration standards (removal from bottle and no return of material into the bottle)
Replenish calibration standards after the expiration date to ensure continuing confidence in your analysis and analytical procedures.
We recommend replacing your calibration sets after the expiration date.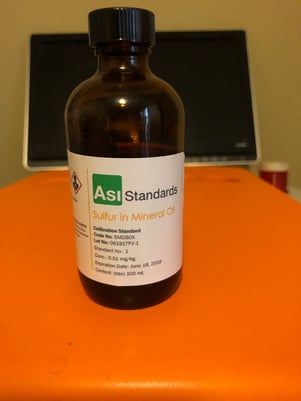 All standard bottles contain the Code No – SKU
The lot no. for traceability
The standard number in the specific set
The concentration value and units
Expiration date – Month, day, and year
Content – Amount in bottle when full
If you are an ISO 17025 accredited laboratory, your accreditation depends on maintaining control over the validation of calibrations and the way to achieve that is to make sure your standards are valid and accurate.
It's the cornerstone of good laboratory and manufacturing processes.
Here's how to track your calibration standards validity and get reminders when you need to replace them.

Download the validity tracker, add it to your quality control file, and update as you receive new standards. The validity tracker automatically flags you when your calibration set is out of date and provides a link to reorder in the ASI Shop.
No more worries! Get the calibration standard validity tracker today.